Written By: Rylie Shore
You are helping your kids learn water safety and develop a love of swimming by having them in swim lessons, but did you know that swimming also offers you some awesome health benefits? We are so excited that you are setting your children up for a lifetime of loving the water, and we want to share with you some of the benefits that you can gain by getting in the water too: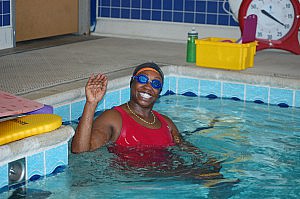 Swimming is a lifelong sport. Unlike football, running, and other "land" sports that become hard on your body over time, swimming is a sustainable activity that can be continued over the course of your lifetime. People into their nineties have been known to swim for exercise, so you can too!
Swimming is low impact, meaning it is easy on your skeletal system and joints because the water supports much of your weight (up to 90%!). Because of the way the water carries your body, swimming is good for people of differing ages and weights and is a good recovery activity for those healing from injuries.
Swimming is dynamic and can be tailored to your athletic abilities. For a high-intensive cardio workout, swim sets can be fast-paced to increase your heart rate. If you are just getting back into shape, laps can be done at a slow place while still building muscle and increasing heart rate. Water aerobics also offers an activity that takes weight off of joints while still getting people moving!
Swimming builds and tones muscle through the resistance of the water. Though the water allows for an activity that is low-impact, the water's resistance engages all the muscles in your body to build full-body strength and tone your muscles. Who doesn't want a little extra muscle in their abs, back, arms and legs?
Swimming is just all around healthy! Because swimming is an aerobic exercise, it will lead to a healthier heart if done on a regular basis. And like other physical activity, it lowers cholesterol and lowers your chances of getting diabetes. It also decreases your stress and increases your spirits through the releasing of endorphins!
If you haven't tried swimming for exercise, now is a great time to start! Check out 100 Swimming Workouts for ideas on some good workouts, EnduranceWorks for some videos of different swimming drills, U.S. Masters Swimming for masters team options, or see a local gym for different swimming programs they might offer. Whatever your swimming abilities and background, find a pool and start swimming!