Press
Swim to shore in the press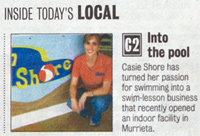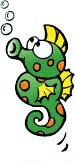 Learning Safety, Loving Water by Hope Pierson – The Press Enterprise – June 24, 2008
Casie Shore's business is teaching swimming lessons, but her main goal is to make sure her students stay safe. Shore, 40, recently opened Swim to Shore, an indoor swimming facility at 25395 Madison Ave, Suite D-101, in Murrieta. "By meeting the individual needs of each student, we develop swimmers who are safe in the water and eventually are at home and in love with the water," Shore said. Read the entire article here.
Taking the Plunge by Sandra Shrader – Under the Sun Magazine – May 2008
"I absolutely love swimming and I love to teach swimming," said Shore, who has held learn-to-swim classes during the warmer months at her own backyard pool for the past five years. "Having an indoor place to teach swimming lessons all year long, rain or shine, was something I have wanted to do for a long time now." Read the entire article here
"Women to Watch" – Inland Empire Magazine – January 2008
"Safe in the water…at home in the water…in love with the water!" This is Casie Shore's desire for every child and adult in the Temecula Valley. Her passion for swimming and desire to insure water safety in the community has spurred her to expand her home-based private swim lessons business, Swim to Shore, to a year-round, indoor swim school in Murrieta. Swim to Shore will be the first swim school of its kind in the valley to be located in a retail center. By keeping an intense focus on meeting the individual needs of each student, Casie Shore has earned a premier reputation for swimming instruction.
"Swim Safely This Summer!" by Mary Rhoads – Neighbors Newspaper
"Parents should remember that children learn how to swim at their own unique pace. Becoming an efficient swimmer is a huge milestone for children and requires a great deal of effort, skill and developmental readiness. Although swimming lessons are usually an exciting time for a beginner, they can also be a little scary. A positive atmosphere filled with lots of encouragement and praise is critical to promote a successful learning experience." Read the entire article here