Written by: Rylie Shore
With "Swim to Shore" branded as the business name, a giant hole in the ground being plastered in the backyard, and an unwavering passion to teach swim lessons, Casie Shore was only missing two things to start her business: students and a business license. Pennies pinched, her advertising tactic was to print flyers and disperse them at the gym and bowling alley's kid's clubs, while she simultaneously applied for the proper certifications. When summer finally rolled around, it brought with it a business license with her name on it and a sum of a dozen students.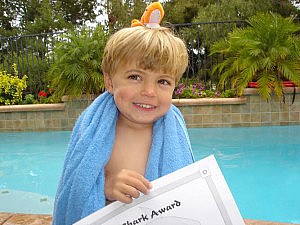 In hopes of helping boost Swim to Shore's clientele, Casie's brother developed a website just in time for the following summer's heat to arrive. The online presence increased the community's awareness of her business, but as community members called to enroll, she found that about 90% of her new customers heard about Swim to Shore through word of mouth. As the number of students increased, word of her business spread like wildfire.
Within three years of opening her dream, she reached the maximum number of hours she could teach in a given week. Unwilling to keep interested students from learning water safety, she brought another instructor into the backyard, and not too soon after, the demand for swim lessons required yet another instructor. The backyard pool not big enough to hold more than one lesson at a time, and one of three instructors in the water all hours of daylight Monday through Friday, Casie's startup business reached its maximum capacity within five years of its opening.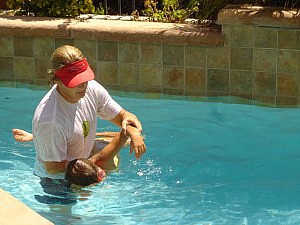 Being the passionate dreamer that she is, Casie stubbornly refused to accept that interested customers could not receive swimming lessons due to limited pool space. If that was the only hesitation to serving the needs of her customer base, all she needed was a larger pool, right? Well that was what she thought, and that was all it took to set her dreams to wandering outside the confines of her backyard space.