A splash of history…
Thank you so much for your interest in our swim school! We are excited to share our journey from a seasonal backyard business to our year-round, indoor swim school with you!
Our private swim school was established in Murrieta in 2002 and operated out of the backyard pool of owner, Casie Shore. Swim to Shore experienced such rapid growth that we realized the incredible need for a place where the water safety needs of all children and adults in our community could be met on a year-round and continual basis. We set our sights to move indoors with two goals in mind … a place where we could create an intimate environment to optimize student learning and a location that would be convenient and accessible for our busy swim families. Our search landed us in a cozy retail space located at the Madison Marketplace in Murrieta. We invite you to join us…rain or shine, in a special environment that was created just for you!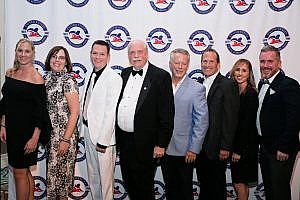 (USSSA Board of Directors. 2015-2018 Casie Shore 2nd from right)
Swim to Shore has been a member of the United States Swim School Association since 2002 and Casie has served on the board of directors since 2015. The USSSA began in 1988 and has become the largest swim school association in the country. With over 500 member schools in 43 states and 17 countries, member schools provide swimming and water safety instruction to over 500,000 students each year. 
A sea of passion…
Swim to Shore is wholeheartedly committed to aquatic education and drowning prevention. For all the recreational fun and health benefits water provides, the dangers of water for non-swimmers persist. It is our deepest desire to equip all children and adults in our community to be safe in and around water.
We specialize in teaching personalized swim lessons to children and adults of all ages and ability. Our swim school is driven by two incredible passions: connecting with our students in order to learn how to best meet their individual needs and guiding them to become safe, confident and successful swimmers. Our spirited instructors fill each lesson with lots of loving encouragement as they eagerly work with each student to instill a true understanding of the water. Fun-filled lessons are created each day to keep our students engaged and challenged to improve their skills. We love to see our students succeed and celebrate progress with lots of smiles, cheers and high fives. There is nothing more fulfilling to our staff than to share in the joy of each students learning.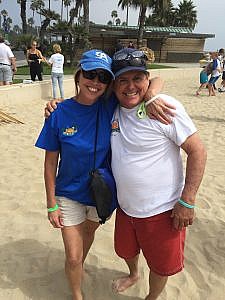 Swim to Shore partners with Stop Drowning Now. Stop Drowning Now is a non-profit organization whose mission is to educate children and communities on drowning prevention. (Photo on the left: Manager, Jennifer Pourkazemi who brought her son, Timmy to lessons at Swim to Shore when we were still a backyard program back in 2002. Second photo from left: Our S2s staff at Corona Del Mar State Beach participating in a Safer 3 fundraiser to raise money for drowning prevention. Third photo from left: Chris and Casie Shore. Photo on the right: Casie with Johnny Johnson, the founder of Stop Drowning Now).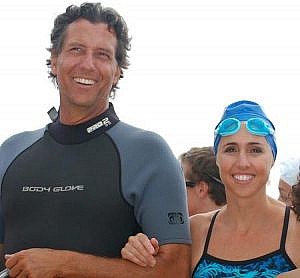 Our Vision..
To grow our swim family by delivering an outstanding swim experience that touches lives and nurtures the spirit of everyone!